Located off of Highway 380 between McKinney and Greenville, Farmersville is a small community that offers open space, while still being close enough to the DFW Metroplex.
"Farmersville is a small town with a rich history and a bright future," says Mayor of Farmersville, Joe Helmberger. "In Farmersville, we value family and community connections and have a large volunteer base that is second to none."
What Makes Farmersville Unique?
Farmersville is a small town located near major cities and highways. In addition, the city boasts a town newspaper, "The Farmersville Times," that has updated residents about what is happening in Farmersville since 1885!
"We are a city that enjoys our small hometown feel, and value our family and community connections. Farmersville is a friendly community with great people. I couldn't ask for a better place to live," says Mayor Helmberger.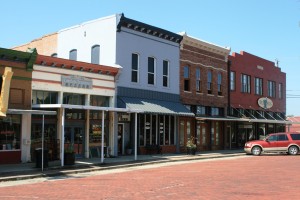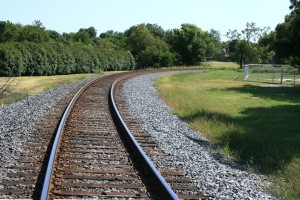 Farmersville is served by the Farmersville Independent School District (FISD). FISD includes one high school, one middle school, one intermediate school, and one elementary school. According to Mayor Helmberger, "The school district is in good shape, and the schools will continue to improve as the area grows."
FARMERSVILLE IS A SMALL TOWN WITH A RICH HISTORY AND A BRIGHT FUTURE.
Unlike a lot of cities and towns in the DFW area, Farmersville has a lot of outdoor activities that are fun for the whole family. Farmersville boasts being a part of the Chaparral Trail that includes miles of trails for hiking and biking enthusiasts! Farmersville also has multiple parks and is close to Lake Lavon, where residents enjoy fishing, boating and other water activities.
Farmersville also has a beautiful downtown main street area that is a favorite with residents and visitors. The Texas Main Street Program is among the most successful downtown revitalization programs in the nation.  Farmersville has been a Texas Main Street city since the year 2000, and encourages downtown revitalization within the context of historic preservation. "The preservation of our main street area reflects our history as a town, and is something that we cherish," says Mayor Helmberger.
Festivals and Celebrations
Farmersville has multiple celebrations and festivities that occur throughout the year. Here are a few notable events:
Audie Murphy Day celebrates the remembrance of hometown hero Audie Murphy, the most decorated soldier of World War II. In 1945, Murphy came back home to a hero's welcome in downtown Farmersville. Today, this Main Street Program event draws thousands and honors our local veterans as well as the "hometown hero" Audie Murphy. Popular activities over the years have included a parade–complete with local Vets riding in historic vehicles,–a brief program giving biographical information about Audie Murphy, a roll call of local veterans, and military exhibits.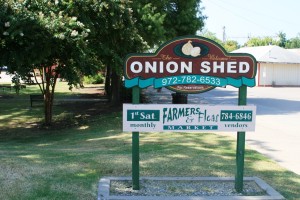 FARMERSVILLE MARKET
The first Saturday of every month, the town holds Farmersville Market downtown in the Onion Shed. Enjoy the abundance of fresh fruit and vegetables, crafts, jewelry and more!
Farmersville has seen steady growth over the last few years, and is expected to continue to see steady growth as the metro area begins expanding further on Highway 380.