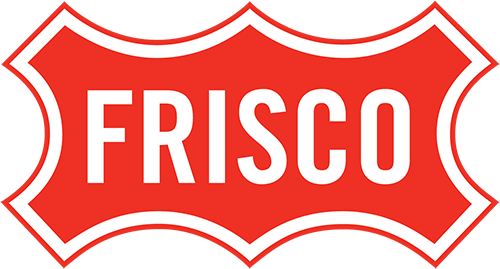 Since 2003, Frisco, Texas has been named "Tree City USA" by the National Arbor Day Foundation due to the beautiful trees and nature that can be found there. Although Frisco has nature, it also has city life. In February 2015, Frisco's population was at 145,900 and is expected to expand.
"Frisco is a great place for families to live and to work," says Mayor of Frisco, Maher Maso. "One of the best things about Frisco is that you do not have to leave town to meet your needs," adds City Manager, George Purefoy.
"Although Frisco is a dynamic and exciting city, public safety is something that is very important to us," emphasizes Maso. In 2011, Frisco was named 7th on the list of "America's 25 Best Places to Move" by Forbes and "is an exciting place to watch your family flourish," says Maso.
What Makes Frisco Unique?
One of the defining features of Frisco is that residents are very involved in the community. "The residents are always participating in community events and there is a large volunteer base here," notes Maso. Frisco has worked hard to become a destination city, and it is not only home to families and businesses, but is also home to several professional sports teams.
The teams include: FC Dallas professional soccer team, the Frisco Rough Riders Minor League baseball team (an affiliate of the Texas Rangers), and the Texas Legends, which play in the NBA Development League (an affiliate of the Dallas Mavericks). With multiple venues to watch the teams, Frisco is a great place for sports and entertainment!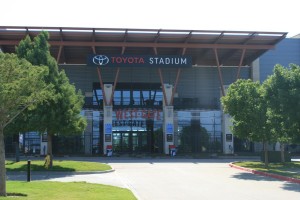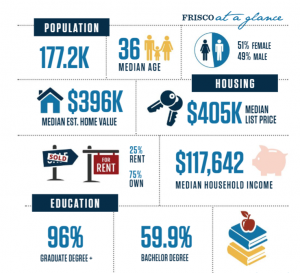 The majority of Frisco falls under the Frisco Independent School district, however small portions are serviced by the Lewisville Independent School District, Little Elm Independent School District, and Prosper Independent School District. "The education is the number one reason to move to Frisco," says Purefoy. "FISD does a fantastic job of limiting the number of students in each high school. Every student is known by their name, and they do not get lost in the crowd."
Frisco ISD has eight high schools. FISD also has 13 middle schools, with one more expected to open for the 2015-2016 school year. Frisco also has 37 elementary schools, and offers an Early Childhood School that is available for children ages three and four. A unique feature that Frisco has is the Frisco ISD Career & Technical Education Center (CTE or CaTE Center), a building in which students from high schools can experience and try different careers, from veterinary work to advertising, to graphic design. The center offers students the opportunity to have a hands-on experience with different careers to see what they might choose as a future career before entering the work force or college.
"I cannot say enough about the quality education and the personal quality of the education partnership that the school district has with the City of Frisco," says Maso. "Frisco is a safe town with excellent education," adds Purefoy. "People have the opportunity to play sports at any level, from young children to adults. Frisco is rated one of the best towns to raise an athlete."
*Info-graphic Courtesy of Collin County Newcomer & Relocation Guide
FRISCO HAS WORKED HARD TO BECOME A DESTINATION CITY, AND IT IS NOT ONLY HOME TO FAMILIES AND BUSINESSES, BUT IS ALSO HOME TO SEVERAL PROFESSIONAL SPORTS TEAMS.
From sports venues and shopping, to libraries and the great outdoors, check out what Frisco has to offer!
Toyota Stadium is a 145-acre multipurpose sports and entertainment facility that is home to the FC Dallas soccer team. The facility is one of the top venues in the United States for professional and amateur soccer, and has drawn over 1 million visitors every year since its opening in 2005.
Home to the Frisco RoughRiders Minor League baseball team, Dr. Pepper Ball Park is a 10,600-seat baseball stadium. Open since 2003, the stadium has won several awards including the 2003 Texas Construction award for Best Architectural Design. Bring family and friends, and enjoy watching a RoughRiders game this baseball season!
Home to the Texas Legends basketball team, Dr. Pepper Arena is a state-of-the-art facility hosts a wide variety of events such as concerts, family shows, and sporting events!
The two-story Frisco Athletic Center spans over 100,000 square feet, including an indoor and outdoor aquatic center that is open to the whole family! In addition to the indoor aquatic center and Frisco Water Park, the facility also includes elements such as a large, state-of-the-art fitness area, two full-size gyms, two aerobics studios, The Zone, Fun Club childcare area, recreation classrooms & more!
Frisco Football Leagues
Frisco has two football leagues for the children and youth of Frisco to join. The Frisco Football League is designed for children to play football before entering football in the school district. The league also includes cheerleading for children who wish to cheer on the team! The FlagFootball4Fun Flag Football League is designed to teach children how to play flag football, and is the largest NFL flag football program in Frisco.
The Superdome is a 100,000 square foot, $4 million specially designed 250 meter outdoor wood bicycle racing track. The Superdome is also a part of the United States Olympic training centers. The Superdome is open to the public during specified hours.
Frisco boasts having a state-of-the-art natatorium featuring an Olympic-sized pool. Come swim and dive at the natatorium!
Enjoy shopping, restaurants, the ice rink, or the movie theatre at Stonebriar Centre Mall! Located off of Sam Rayburn Tollway, Stonebriar Mall features six major department stores and 165 shops! Explore all the Stonebriar Centre Mall has to offer today!
Explore beautiful room set-ups and gorgeous furniture at IKEA! Located right in Frisco, IKEA includes floors of furniture, dinnerware, outdoor décor & more! Come and see what you can transform your space into at IKEA in Frisco.
The Frisco Square is a multi-generational, master planned development which will encompass as much as 4.4 million square feet of office, retail, multi-family and municipal facilities in an area of 147 acres. The Square offers a variety of restaurants and access to entertainment at Cinemark Next Gen-XD Theater, with the latest movies and special events. Throughout the year, Frisco Square hosts events with live performances, music, and food that is fun for the whole family!
Frisco has multiple celebrations and festivities that occur throughout the year. Here are a few notable events:
Come and celebrate Asian heritage and culture at Asia Fest. This event takes place the first weekend in May and features performances, demonstrations, exhibits, food and fun activities for the whole family.
Every year, the Frisco Christmas in the Square draws over than 665,000 visitors from all over North Texas. Come and enjoy the lights, music, snow machines and holiday festivities that take place during this event. Among all the fun, the Holiday lights and music is choreographed by Frisco's own Jeff Trykoski (Illumimax LLC). With over 175,000 lights, this light show is definitely something to see! Enjoy a walk through the "Winter Wonderland" while the sidewalks are filled with snow from the snow machines, and get into the holiday spirit!
Almost every year, the NCAA Division 1 Football Championship takes place right in Frisco! Cheer on the teams and have a great time with family and friends!
Frisco is known for having one of the largest Daddy Daughter Dances in the southwest! Daddies—bring your daughters and have a night to remember with dancing, food, and fun!
Frisco has seen a large amount of growth in the past decade, and the population is expected to keep increasing in the coming years. "The DFW region as a whole has seen dynamic development, and as a destination city, Frisco is a part of that development," says Maso. "In the coming years there will be more companies, more jobs, and more exciting things coming to Frisco," adds Purefoy.
"I often hear from families that they feel safe in Frisco, and that the combination of education, venues, things to do, and the comfort of the living in the city safely is something that they love," notes Maso. Each year, The City of Frisco develops programs that focus on partnerships with organizations and Frisco and public safety. Last year, over 400,000 children became experts in safety through our Safety Town program and learned the importance of staying safe. These programs benefit the community as it continues to grow and expand."