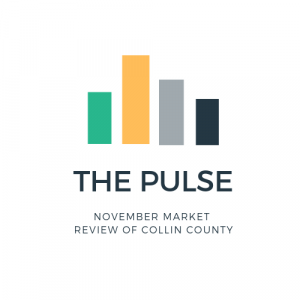 The Collin County Association of Realtors (CCAR) reports that November 2018 continued to be a difficult time to qualify for the purchase of a home. According to the Housing Affordability Index, the October 2018 drop of home affordability did not improve in November, and remained at 97 percent. This means that the median household income is only 97 percent of what is necessary to qualify for the median-priced home under prevailing rates.
The CCAR Pulse, which delves into the real estate markets of 37 local communities, reflects this decrease in affordability. In November 2018, Collin County had 7.2 percent fewer homes under contract and was projected to close 5.1 percent fewer sales. While it is traditionally accepted to see a seasonal decline in sales towards the end of the year, the decline is highlighted by a 3.9 percent decrease year-to-date in listings under contract—the first negative year-to-date stat regarding listings under contract our area has seen in over three years.
The median sales price of a home in Collin County increased again last month to $306,900—2.3 percent more than in November 2017. Sellers accepted on average 95.2 percent of their original list price after staying on the market for an average of 55 days in November 2018—a 14.6 percent increase in days on market than the year prior.
While experiencing an increase in days on market for home listings, Collin County also had 9.9 percent more new listings in November 2018, versus the same time last year. The combination of homes being on the market for more days while experiencing an increase of listings has allowed housing inventory to reach 3.1 months—a continuing sellers' market.
What does this mean for buyers and sellers? According to Melissa Hailey, CCAR President, it means continuing home sales.
"Individuals who are home shopping during the holiday season are serious buyers. And right now, sellers are aware of the increase of home inventory and options that buyers have. This means the market is seeing motivated buyers and sellers who are ready to make a deal, and that's a win for everyone," says Hailey