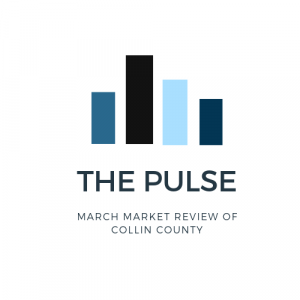 PLANO, Texas — The Collin County Association of Realtors (CCAR) reports that buyers and sellers hit their stride in March 2019, resulting in more projected closed sales, fewer days on the market, and an increase in percent of original listing price received.
In March 2019, there were 4.9% more new listings than March 2018 and 25.2% more inventory of homes for sale than the year prior.
Homebuyers were ready to purchase the increased inventory, resulting in 4.5% more listings under contract than March 2018, 6.9% more projected closed sales than March 2018, and the fewest days on market (60) for the CCAR Pulse area since November 2018.
The increase in sales may be in part to the housing affordability index of 106 in March 2019; signifying that the median household income is 106% of what is necessary to qualify for the median-priced home under prevailing interest rates.  The index may have been boasted by a 1.1% decrease in the median sales price of homes in March 2019 ($313,854) compared to March 2018 ($317,500).
However, the decrease in median sales price should not discourage sellers. When compared to February 2019 ($300,000), the median sales price increased a significant 4.4% in one month's time, continuing a two-month trend of month-over-month median sales price increase.
Sellers also received 96% of their original list price in March 2019, continuing a three-month upward trend of original list price received. An indication of well-informed sellers setting competitive prices, an additional factor contributing to increased projected closed sales in March 2019 and decreased days on the market.
The months supply of homes for sale is one data figure that continues to remain steady for the CCAR Pulse area. March 2019 reported 3.1 months supply of homes for sale—the median months of homes for sale for the past 11 months. This represents a steady sellers' market, despite increased inventory and slowing of sales prices.
"Spring is historically thought of as the peak season for real estate and the March market performance in Collin County has indicated this year will not be the exception," remarked David Alan Cox, CCAR President.
As sellers prepare their homes for the market and buyers qualify for their home loans this spring, signs indicate a happy ending for all parties involved.