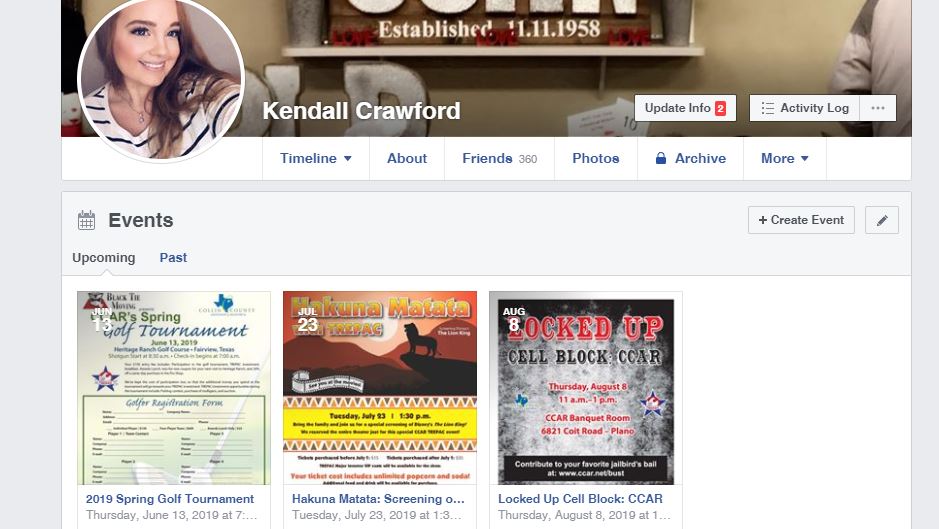 Facebook events are an under-utilized feature that can be a big help to real estate professionals. Whether you are hosting an open house, client appreciation event, networking lunch, family reunion, a summer cook out, or birthday party--Facebook events can help.
CCAR is lucky enough to have our own Social Media Specialist, Kendall Crawford, to organize CCAR events on Facebook. Kendall has unparalleled talent in all things social media and kindly shared her expertise, so that we can plan and promote our summer shindigs with ease.
Let's start with the basics, what is a Facebook "event?" 
An "event" on Facebook is a separate page created to discuss and give details for an event you have coming up. It is like a chatroom for your event where people can share ideas and RSVP.
How and why do you create an event?
These events are perfect in place of paper invitations and can promote open houses, office grand openings, committee meetings, organize volunteer efforts--really anything you want people to know about. They are also really useful to gauge interest for an event or open house/listing.
An added perk is Facebook reminds users of events they have RSVPed to as "interested" or "going."
To create an event, you go to your Facebook page and click "events" from the side bar. You are then directed to a page that has a "+ create event" button. From there, you fill in the details for your event. If you are on a personal page, you have a choice to make the event "private" or "public." A private event is only visible to those who you add to the event, and a public event is visible to anyone on Facebook.
Business pages do not have the option of creating a private event.
What would you call a "successful" Facebook event? Is it the number of attendees?  
I consider a Facebook event successful if there is a lot of participation and interaction on the page--not the number of attendees at the actual event. For example: If only a few people come to an open house but there was a lot of interaction on the event page with users asking for details about the home, commenting on the gorgeous entry and size of the back yard--I call that a successful Facebook event.
Bonus: Interactions push your event back to the top of Facebook users' feeds and increase your social media presence--even declined invitations!
Is there something you can do to make it successful? 
I tell people the same advice for posts and events: You engage to get engagement. It is important for you to add to the event page, comment with new details, ask questions to the attendees, and show excitement for your upcoming event. You don't want to create an event page and then leave it unattended. If the creator of an event page is too busy to interact with the event, attendees won't prioritize it either.
A huge benefit for business accounts is the ability to pay for promotion of their event within Facebook. You absolutely should. I suggest businesses have a dedicated budget for Facebook event promotions. When boosting your event, Facebook allows you to specify your target audience and can be a tremendous benefit.
How far in advance should you create an event and invite friends? 
If you create it too far out, you risk over marketing and repetition. For big events that you know about far in advance, I recommend three months. For smaller, casual events, a few weeks is fine. And, of course, for open houses one week or a few days prior is all you need.
Do you have any other tips? 
If your event has a flyer created, I recommend uploading that as your event image so users can quickly view all the details. If there is not a flyer, make sure you use something eye catching, fun and related to the event.
Also, it is important to note that Facebook events are exclusive to Facebook users, so it is a good idea to use alternative methods of communication to ensure those without Facebook still receive information regarding your event.
That's everything! You are ready to host limitless open houses and pool parties this summer--just don't forget the sunscreen.