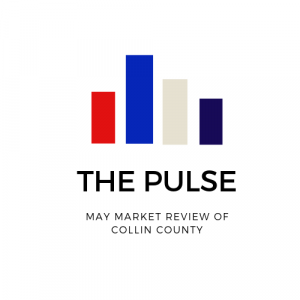 PLANO, Texas — The Collin County Association of Realtors (CCAR) reports that slow and steady really does win the race as slow growth rewarded sellers with record-breaking profits and buyers with increased ability to purchase their home along with strikingly high inventory levels in May 2019.
Seller's increased profits were due to the median sales price hitting $326,500 in May 2019. A mere 2% increase from May 2018, yet resulting in the highest median sales price ever recorded for the  CCAR Pulse area. The same percentage of original listing price was received in May 2019 as the month prior (96.5%), signifying that the median sales price increase was a result of higher original listing prices in May 2019.
While an increase in sales price was good news for sellers, it was not necessarily bad news for buyers. In May 2019, the Housing Affordability Index increased 2%, matching the 2% increase of median sales price; indicating that the median household income is 103% of what is necessary to qualify for a median-priced home under prevailing interest rates.
Additionally, the CCAR Pulse area had a substantial 16.3% increase in inventory in May 2019 than May 2018 (13,983 vs. 12,020), providing buyers with ample homes to purchase. The increased inventory resulted in 3.5 months of inventory in May 2019, a 20.7% increase from May 2018.
However, high inventory does not mean a  slowing of sales. In May 2019, buyers continued to snatch up new listings at an increased rate, resulting in 15.5% more projected closed sales in May 2019 compared to the year prior (5,935 vs. 5,139).
David Alan Cox, CCAR President, reports that, "Collin County's housing market is healthy and growing at a sustainable rate. It feels different from two years ago with bidding wars and messy multiple offer situations, but the slow and steady growth of 2019 has continued to provide seller's with increased profits, while allowing buyers to breathe a bit easier when considering a home."
Indeed, the tortoise pace of 2019 has removed the frenzy, provided seller's with confidence their investment is appreciating, and allowed buyers time to consider their purchase. Not a bad way to win a race.
May 2019 Pulse Statistics Update Directed and Produced by Garrett Holton, CCAR Videographer/ Digital Media Editor