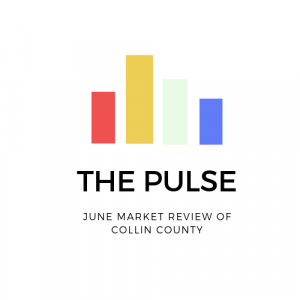 The Collin County Association of Realtors (CCAR) reports that June brought many of 2019's upward trends to a halt, while still delivering the highest median sales price ever reported by the CCAR Pulse.
Throughout 2019, sellers have listed their homes at a growing rate, increasing 43% from January 2019 (5,194) to May 2019 (7,440). June 2019 stopped this trend with 6.3% fewer new listings than May 2019 and 7.1% fewer listings than June 2018.
June was also the first month since January 2019 to have fewer listings under contract (-0.8%) than the year prior, while simultaneously showing a sharp decline of closed home sales than the month prior (4,649 vs. 5,365). Despite June's dramatic departure from growth, the projected closed sales in June showed a slight increase from June 2018 (0.7%).
With fewer listings under contract in June 2019, inventory increased 8.9% from the year prior, creating 3.6 months of inventory. A market with 6 months of inventory is considered a balanced market, therefore Collin County remains a seller's market.
Nevertheless, June did allow some trends to remain in tack. The number of days on market continued to decrease- homes remained on the market for 47 days in June 2019; the fewest amount of days on market for the CCAR Pulse area since October 2018 despite a 30.6% increase from June 2018.
Sellers who successfully snagged a buyer in June received 96.6% of their original listing price and, thanks to a 2.3% increase in median sales price from June 2018, received the highest median sales price ever reported by the CCAR Pulse ($332,500). This increase contributed to lower affordability for buyers, indicated by a Housing Affordability Index of 101.
David Alan Cox, CCAR 2019 President, was not surprised by June's market activity. He explained, "Many home sellers and buyers want to accommodate school schedules; completing transactions in the late spring to early summer to allow children to be settled prior to the start of school. June served as a month of market correction."
While many homebuyers spent June barbequing with their new neighbors, many are curious as to how many people were motivated to move in July.