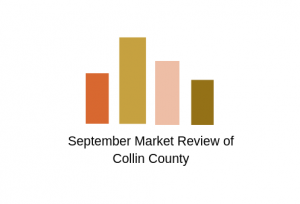 PLANO, Texas — The Collin County Association of Realtors (CCAR) reports that the Collin County market was roughly the same in September 2019 as September 2018—only better.
"Seasonal market trends are anticipated in the fall as home buyers and sellers prioritize other areas of their lives. In September, we saw that with fewer sellers listing their home and fewer closings. Those who did list or buy were highly motivated and qualified, yielding a unique set of benefits," explained David Alan Cox, CCAR President.
Indeed, the percentage of original listing price received by sellers, median sales price, number of new listings, closed sales, and inventory levels all declined when compared to the months preceding September, while days on the market increased. All historically expected for the month of September.
However, when compared to September 2018, September 2019 tells a story of a stable seller's market. Out-performing the year prior in almost all market indicators.
There were 4.8% more new listings and 11.3% more closed sales in September 2019 than September 2018. With fewer listings entering the market than closing, inventory levels dropped within Collin County to 3.4 months in September 2019—a 10.5% decrease from the same time last year.This decrease further pushed the area towards a sellers market, as a market is considered balanced with six months of inventory
To reach the closing table, patience and a bit of flexibility was required of home sellers in September 2019. Homes remained on the market for 36 days in September 2019, 20% longer than September 2018 (30 days). In addition, they sold for 96.26% of their original listing price, roughly the same amount received in September 2019 (96.8%). Resulting in a 1.2% increase of sales price in September 2019 ($329,321) compared to in September 2018 ($326,000).
With the market following a predictable pattern in September, many anticipate a predictable seller's market in October with low inventory levels and a steady median sales price. Yet, a real estate transaction is more than market trends and numbers, it is the purchase and selling of one's home, and there is never a better time to do it than when a family is ready.