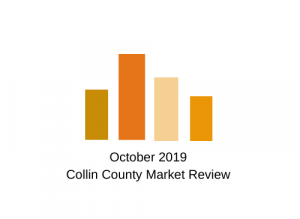 CCAR reports that Collin County Realtors knew the drill in October 2019, with steady conditions allowing homes to be listed with predictable gains and list-to-close timelines.
In October 2109, sellers received 96.20% of their original list price, the same amount received by sellers in September 2019 and a mere 0.03% increase from October 2018 (95.90%). The median sales price for the area reflects this stabilization, as Collin County homes sold for $331,460 in October 2019, a 1.06% decline from the year prior ($335,000), and a 0.90% increase from September 2019 ($328,500).
The number of days a home remained on the market in October 2019 also mirrored that of the year prior as homes remained on the market for a median of 40 days after a six-month climb in days on market that began in April 2019; one day longer than October 2018 after an similar summer-to-fall climb (39).
Furthering real estate agent's déjà vu was the number of new listings in Collin County, with 1,724 new listings entering the market in October 2019, three listings shy of matching the month prior (1,727) and 1.8% more than October 2018 (1,692).
The flattening of new listings combined with 5.58% more closed sales in October 2019 than the year prior, resulted in 9.94% less inventory than the year prior and only 3.3 months of inventory. An inventory decrease that further solidified a seller's market in Collin County, as a market is considered balanced with six months of inventory
While fewer listings and decreased inventory in fall and winter months is anticipated, indicators matching so closely to the year prior suggest the market may be stabilizing. David Alan Cox, CCAR President, highlighted the benefit of a stabilized market, noting "market conditions allowed agents to accurately set seller expectations in October, spurring smooth transactions as buyers took advantage of low mortgage rates."
So, should you list this winter? Market trends experienced in September and October 2019 indicate it's time give your Magic 8-Ball a break and meet with a Realtor for insight and information to help formulate a plan of action right for you.