Originally Published in the February 2020 Edition of North DFW Real Producers Magazine
Does your posture straighten and heart quicken with excitement at the mention of TREPAC or do you cut and run at record speed?
If it provokes a reaction reminiscent of that time Uncle Frank brought up politics at Thanksgiving, I challenge you to read to the end of this article. Why? Because TREPAC exists, advocates, and battles for you, your clients, and your business.
Myth: TREPAC wants your money.
Truth: TREPAC wants you to keep more of your hard-earned money.
TREPAC has fought and won on numerous legislative battles since its formation in 1972. Five recent legislative victories have a direct impact on your commission check at every closing. See how much of your money TREPAC has protected at https://www.ccar.net/government-affairs/.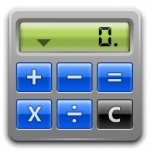 Myth: TREPAC supports candidates from one political party.
Truth: TREPAC is not affiliated with any political party.
TREPAC is the Realtor Party. Local Realtor boards and associations throughout the state interview candidates and make recommendations as to which candidate should receive campaign contributions from TREPAC. No single person can commit TREPAC money to a candidate.
The Collin County Association of Realtors (CCAR) extends an invitation to all members to attend candidate interviews and publishes the date, time, and location of the interviews on its website, www.ccar.net.
Myth: Only a six-figure TREPAC investment will make a difference.
Truth: If every Texas Realtor invested his/her $35 "fair share investment" all TREPAC endeavors would be fully funded.
While six-figure investments are always welcomed and come with many benefits, TREPAC would be fully funded if each REALTOR® member completed his/her annual $35 fair share investment. Did you know a $35 movie ticket to a CCAR event benefitting TREPAC can make your fair share investment a joy?
Bottom Line:  CCAR is passionate about supporting TREPAC because TREPAC protects our members' business, private property rights, and promotes homeownership.
*Commissions are negotiable, this example uses a 3% commission.
**Savings Calculator content provided by Texas Realtors.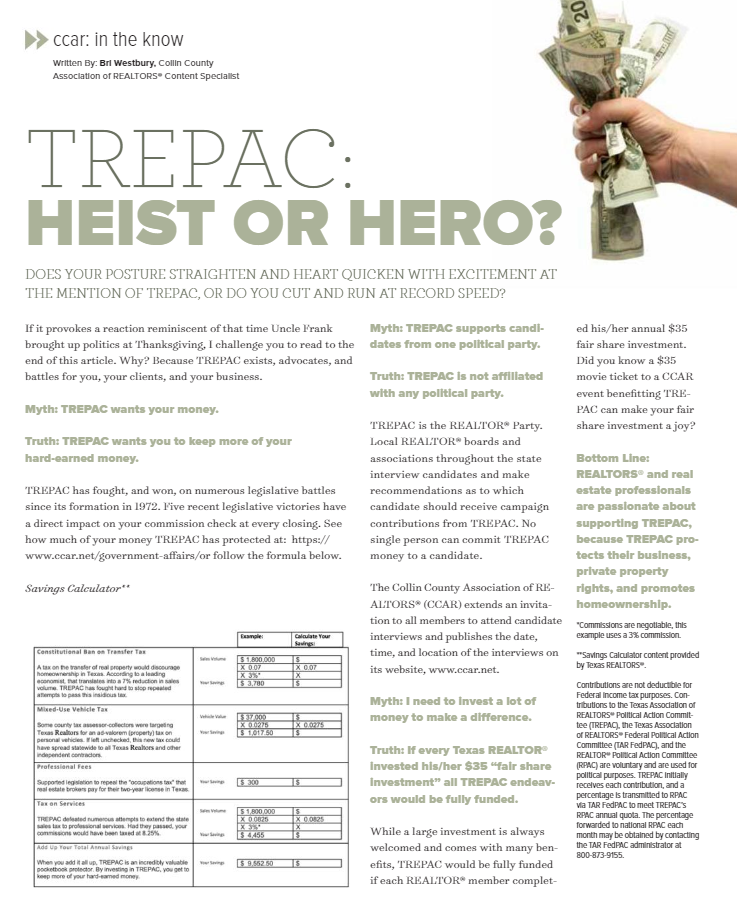 Contributions are not deductible for Federal income tax purposes. Contributions to the Texas Association of REALTORS® Political Action Committee (TREPAC), the Texas Association of REALTORS® Federal Political Action Committee (TAR FedPAC), and the REALTOR® Political Action Committee (RPAC) are voluntary and are used for political purposes. TREPAC initially receives each contribution, and a percentage is transmitted to RPAC via TAR FedPAC to meet TREPAC's RPAC annual quota. The percentage forwarded to national RPAC each month may be obtained by contacting the TAR FedPAC administrator at 800-873-9155.