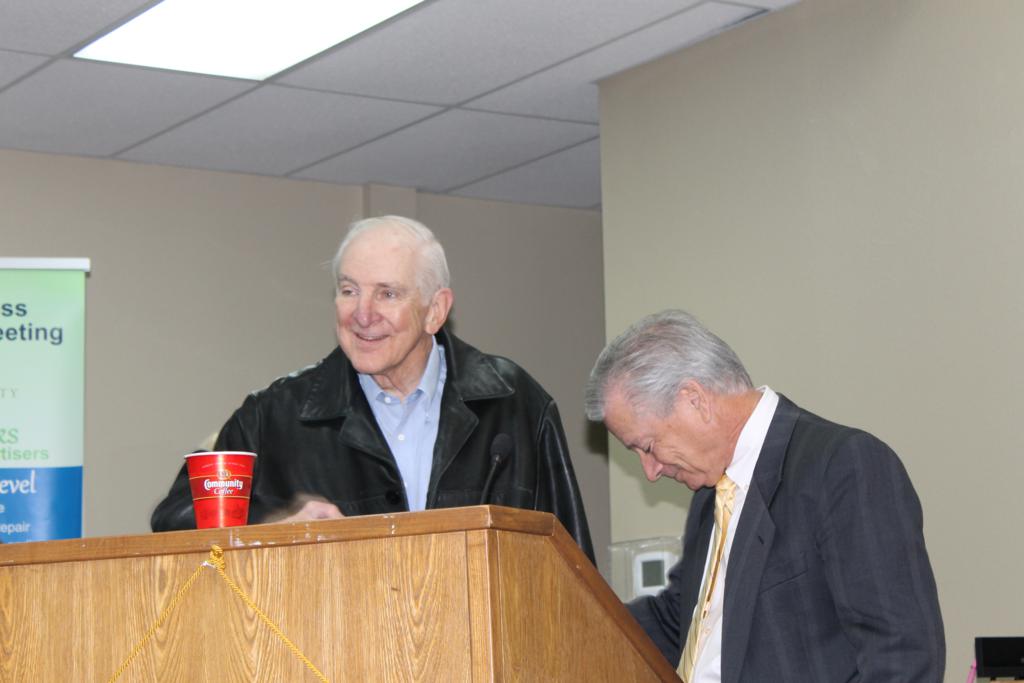 Congressman Sam Johnson (left) with J.C. Posey at a CCAR Plano Business Development Meeting.
"It was my honor to serve for 8 years as Sam's Federal Political Coordinator for NAR until his retirement. Sam was a tireless champion for private property rights and veterans affairs. Our company marketed Sam's new construction homes in the 80's, forging a lifetime friendship. We have lost a hero and a friend." – J.C. Posey, CCAR Past President and Johnson's former Federal Political Coordinator

"We are saddened by the passing of Sam Johnson, but grateful to have known him as a hero, a patriot, a community leader, a family man, a distinguished leader, a person whose character was above reproach, and a friend. Rest in peace dear friend." – Mike Brodie, CCAR Past President and Johnson's former Federal Political Coordinator
---
Sam Johnson, a champion for Collin County during his almost 28-year tenure as a Texas Congressman, died May 27 at a hospital in Plano. He was 89.
"Johnson's service to our country, state, and county was outstanding," remembers David Long, CCAR President. "Enduring seven years as a prisoner of war, withstanding unfathomable pain. Returning to U.S. soil to make a home in Plano and begin a home building business. Many would stop there, but Johnson entered the political arena and served an exceptional tenure. Our county, state, and nation are better because of Sam Johnson."
Johnson's military decorations included two Silver Stars, two awards of the Legion of Merit, the Distinguished Flying Cross, the Bronze Star Medal, and two Purple Hearts.
In his 1998 memoir, "Captive Warriors: A Vietnam POW's Story," Johnson remembered his military service as a great talent; "I had spent hundreds of hours teaching and practicing the tactics of dogfighting. It was what I did best. I liked seeing the enemy — battling against another pilot eye to eye."
However, his aptitude and ability as a leader shined bright, being reelected to his congressional seat 13 times.
"Johnson was a champion for Collin County; a strong and true Statesman, a community leader, and a friend of the Collin County Association of REALTORS®. Our gratitude for his service is great. Our sincere condolences go out to his family," notes Ron Leach, CCAR President-Elect.