Originally Published in the June 2020 Edition of North DFW Real Producers Magazine
The process of filing an ethics complaint may look intimidating, but that should not deter you from taking action if you see the Realtor Code of Ethics violated. "I have heard, and agree, that there are not enough complaints filed," said David Long, 2020 Collin County Association of Realtors (CCAR) President and member of Texas Realtors' Professional Standards Committee. "With the exception of a local, state, or federal law violation, we are a self-policing industry. The Code of Ethics relies on members of our industry holding each other accountable to abide by the Realtor Code of Ethics."
Following the Code benefits our industry, reputation, clients, and those we love. The Code of Ethics prevents Grandma Roberta from buying a condominium with undisclosed defects, or your brother with disabilities from receiving subpar representation. The enforcement of the Code of Ethics allows us all to be proud to say, "I am a REALTOR®."
The most commonly broken Article of the Code of Ethics can be subtle and at times mindlessly broken, Article 12. Although its violation may occur without malice, failure to adhere to the article can have devastating affects to the industry, clients, and dear Grandma Roberta.
Article 12 demands "…truth in advertising, marketing, and all other representations…," and was updated May 15, 2018. In preparation of updated Article 12, the National Association of Realtors published a breakdown of what qualifies as an "Ad" and the content that is required to be included in them. The information may surprise you:
What's considered an ad?

It's any form of communication by or on behalf of a license holder designed to attract the public to use real estate brokerage services. This includes publications, brochures, radio or television broadcasts, business stationery, business cards, displays, signs, billboards, and all electronic media—email, text messages, social media, and websites.

The only exception to the advertising rules is communication between a license holder and his or her current client.

What do my ads have to say?

All license holders' advertisements must include the license holder's name or team name. Ads also must include the broker's name in at least half the size of the largest contact information for any sales agent, associated broker, or team name contained in the advertisement. The broker's name can be the name on the broker's TREC license, an alternate name registered with TREC (if the broker is an individual), or an assumed business name registered with TREC. Contact information can be anything used to contact a license holder, such as the license holder's name or phone number.[1]
Did you notice "…any form of communication…designed to attract the public to use real estate brokerage services.," includes your social media posts? It is imperative your social media account has the required identifying content of an ad easily found on your account profile or linked webpage. When all Realtors take care to abide by Article 12 on all ads, including social media, consumers and agents can quickly determine with whom they are dealing with and the professional standards to which they adhere. Providing a clear and "true picture" of who is listing a home, promoting a website, offering inspection services, or on the other end of an email communication is the professional standard expected of Realtors.
Other commonly broken articles of the Realtor Code of Ethics are Articles 3, 4, 5, 6, 14, and 16. It is worth your time to review these articles to make sure your business practices, as well as those around you, uphold the standards set forth by the Realtor Code of Ethics.
Worried about retribution or a damaged professional relationship if you report a violation? Long encourages you to "Collect all the information, fill out an anonymous complaint form, then send it in anonymously." He is quick to remind, "Since the complaint is provided anonymously, it is imperative all relevant information is collected and provided at one time, since there is no way to contact the plaintiff to request more information about the violation.[2]"
Once a complaint is received by Texas Realtors, anonymously or otherwise, the Professional Standards review process begins. To simplify the Professional Standards Process, Texas Realtors has created a flow chart depicting the process[3].
Let's all do our best to follow and enforce adherence to the Realtor Code of Ethics. Doing so ensures we are outstanding professionals who display integrity in all our dealings, whether it is with our clients, other Realtors, the community, or Grandma Roberta.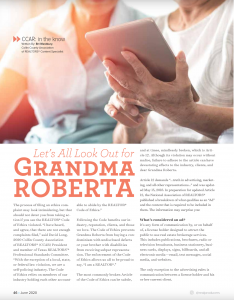 [1] https://www.texasrealestate.com/members/communications/texas-realtor-magazine/issues/january-february-2018/will-your-ads-be-legal-on-may-15-2018/
[2] https://www.texasrealestate.com/members/posts/can-you-file-an-anonymous-ethics-complaint/
[3] https://www.texasrealestate.com/wp-content/uploads/ProfessionalStdsFlowchart.pdf