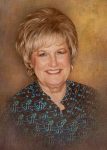 CCAR is sad to announce the passing of Past President, Dorothy Rolater. Dorothy was CCAR's president in 1973 and again in 1976. Dorothy was designated by the National Association of REALTORS® as a REALTOR® Emeritus in 2014.
Due to concerns about gatherings during COVID-19, Dorothy's memorial service will be livestreamed on Facebook on Friday, July 3 at 2 p.m. To watch the livestreamed memorial service, visit Stonebriar Funeral Home's Facebook page. Memories of Dorothy can be added to her obituary page here.
CCAR's condolences are with Dorothy's family and friends during this difficult time.