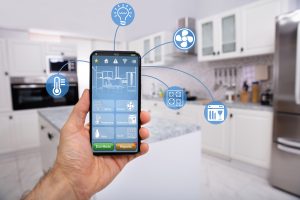 Originally Published in the November 2020 Edition of North DFW Real Producers Magazine
Take a peek beneath the Christmas tree and you will have all the information you need to identify the new evolution of the home, SmartHomes. For multiple years now, SmartHome gadgets have lead the way as the number one gift category, resulting in 75% of homes having at least one SmartHome device[1].
"It is imperative Realtors know how to function in the SmartHome world," said SmartHome expert Matthew Rathbun on CCAR's podcast "Welcome to the Top." "If an agent walks through a home and doesn't identify or acknowledge the smart home devices [a client] has invested in, [the client] will lose trust in their ability."
Indeed, as homeowners invest their money purchasing SmartHome items and their time setting them up, they expect their agent to identify, appraise, and convey them properly. "Article 9 of the Realtor Code of Ethics requires all our agreements to be in writing, are we going to do as-is or [allow] testing [on the devices]? Most sellers will not want to hand over their Wi-Fi passwords. How do we convey digital keys verses traditional keys? If our clients want the thermostat or lights—that has to be adjusted for and accounted for in the contract," said Rathbun.
An issue that is becoming more common during the transference of a home is that of the Smart Thermostat. As these devices have grown in popularity for the energy savings and seamless comfort control they provide, they can quickly blow a deal if you are not aware of some of the basic settings. "When sellers leave, they disassociate their account from the thermostat. That means it is no longer working from the time the sellers move out.  Once the new owner connects to the device, the default setting is to heat and cool the house in the most economic manner—so it can take 8 hours to reach the desired temperature, unless you override that feature. If you can't help a buyer navigate that, they often think [the HVAC] is broken."
Home monitoring devices are another common SmartHome product that agents must account for in their basic practices. The presence of home monitoring devices should be discussed with your sellers at the listing appointment and disclosed on the MLS. It is also best practice to notify buyers of the monitoring devices by a sign on the door. On the flip side, agents should coach buyers to behave as if someone is watching them when viewing a home and advise them not to discuss details relevant to an offer inside the home.
So can you market a home with a Smart thermostat or monitoring device a SmartHome? No. The most widely accepted definition of a SmartHome was created by CNET, identifying a SmartHome as one that has a solid internet connection, at least three SmartHome devices, one of which has to be either temperature control or a security system.
The new evolution of home is constantly evolving, and it is imperative real estate professionals stay informed. Rathbun encourages agents to grow in their knowledge through "personal use, a trip to your local electronic store…CRS SmartHome Certification, Webinars," or tech blogs like his own at www.matthewrathbun.com.
[1] Rathbun,M. (Broker, SmartHome Instructor). (2020, August 24). Welcome to the Top [Audio podcast].