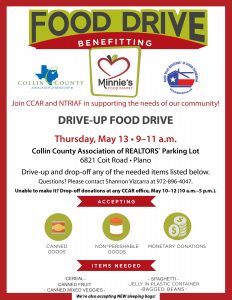 Save the date! On Thursday, May 13, the Collin County Association of REALTORS® (CCAR) and North Texas REALTORS® in Action Foundation will be collecting donations for Minnie's Food Pantry. Any time between 9-11 a.m., you can drive-up and drop-off donations at our CCAR headquarters' parking lot located at 6821 Coit Road, Plano, TX 75024.
Not sure what to donate? We accept all canned or non-perishable goods, monetary donations, and new sleeping bags. Below is a more specific list of food items that are needed:
Bagged beans
Cereal
Canned fruit
Canned mixed vegetables
Jelly in plastic containers
Spaghetti
If you are unable to make it, we will be accepting donations at all CCAR offices May 10-12 between 10 a.m.-5 p.m.
Our community has been a huge supporter of our previous drives, so we are certain you will make this one another success!