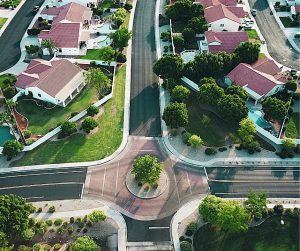 Homeowners Associations (HOAs) are established in residential communities to oversee, manage, and maintain the neighborhood. For homeowners in an HOA, this usually comes with a price: rules and regulations.
If you buy a house within an HOA, you're automatically a member. This means you're also agreeing to the handbook of covenants that comes with owning property there. These covenants vary by each HOA and can be passed by the HOA board after you purchase your property. This means that your property is not only subject to the current covenants and restrictions when you close, you are also subject to future covenant and restrictions passed by the HOA board. These covenants could include anything from what color your front door is, to what type of landscaping you can have in your yard. They can also restrict more fundamental marketable private property rights, such as the right to lease or occupy.
In addition to agreeing to abide by the HOA's covenants, you're also agreeing to pay the fees that come with being in an HOA. These fees are usually collected to upkeep the area. For instance, funds could go toward pool maintenance, security, trash removal, and whatever else is deemed necessary by the HOA.
This all seems like a great idea, however some HOAs are assuming too much power and lack accountability. Charging unclear dues, up-charging resale fees, lacking in communication, and conflicts of interest within HOA boards are examples of how certain HOAs operate. Homeowners in these communities are sharing their experiences dealing with their association and confirming the obvious: HOAs need to be reformed.
"Many HOAs fulfill their purpose, they do well, they keep their communities safe and their standards high for their neighborhoods," said Texas State Representative Jeff Leach. "But there's also HOAs that are totally out of control, trampling on the private property rights of homeowners."
REALTOR® supported legislation, like Senate Bill 1588, looks to ensure that HOA operations are transparent, resident-friendly, and provide an appropriate balance between private property rights and agreed-upon community standards.
More specifically, Senate Bill 1588 would do several things:
Limit fees for resale certificates
Create a central database of Texas homeowners associations
Require HOAs to maintain a website with management certificates and meeting information
Protect property owners from negative credit reporting when a fine or fee is under dispute
Prevent conflict of interests within their governing boards
Improve due process in dispute resolution
Protect owners' and tenants' private information by prohibiting HOAs access to these documents for leasing agreements
The goal isn't to get rid of HOAs, the goal is to establish an appropriate balance between private-property rights and agreed-upon community standards. To learn more about HOA reform, please visit www.myhoastory.com.