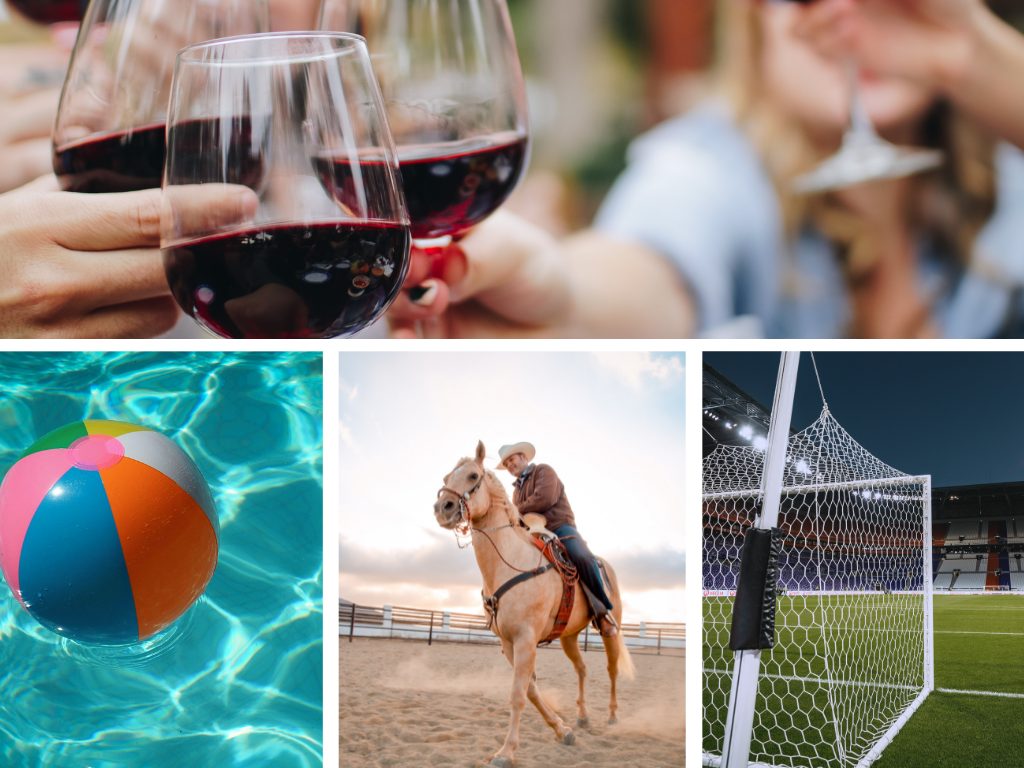 Now that summer is here, you're probably wondering what day trip you'll take your kids on, or maybe you need a getaway of your own. Staying inside probably isn't an option, because, let's be honest, last year was enough. Luckily for you, the Collin County and DFW area offer tons of fun. Keep on reading for 10 must-do activities this summer!
1. Head Out To The Ballpark
In Arlington, the Texas Rangers are dusting off their cleats and showing off their new home: Globe Life Field. With their season running from April through September, there's surely a game for you! We can't forget to mention the free memorabilia they give fans. It's true, whether it be bobbleheads, T-shirts, or flags, the Rangers want to make sure you're not lacking in the merchandise department. Check out the Texas Rangers website for more information on tickets, their season schedule, and all their promotional nights!
Don't want to make the drive to Arlington? Frisco has their own baseball team: the Frisco RoughRiders! The RoughRiders are a Minor League Baseball team and serve as an affiliate establishment of the Texas Rangers. The RoughRiders season runs from May through September. With home games at Dr. Pepper Ballpark, they have promotions going on all summer, a few include Military Appreciation Night, The Beatles Night, the Great Outdoors Night, and Fireworks Friday. Visit the Frisco RoughRiders website for more information.
2. Watch A Soccer Game At Toyota Stadium
Maybe you prefer soccer? Well, Frisco has that too! FC Dallas is a member of Major League Soccer and plays against teams like LA Galaxy and Seattle Sounders FC. Even though Dallas is in its name, the team plays at Toyota Stadium in Frisco. Their regular season starts in April and ends in November. If you're looking for the perfect night to go watch the team, try July 4. After their game, FC Dallas, Toyota Stadium, and the City of Frisco host a Fourth of July Fireworks Show! Check out the FC Dallas website for more information.
3. Visit The National Videogame Museum
Are you a Videogame fanatic? Well, you'd get a kick out of the National Videogame Museum in Frisco. With different interactive exhibits throughout the museum, you'll gain a deeper understanding of how videogames came to be. Current exhibits include "The Timeline of Consoles" that takes a look at the 50+ game consoles released in North America and "You've Stepped Back Into an 80s Arcade" which takes guests into a retro arcade.
"The National Videogame Museum is the ONLY destination of its kind in the country," said Sean Kelly, Director at the National Videogame Museum. "We celebrate the history of videogames by allowing visitors to 'play through the ages' on dozens of game consoles and arcade machines throughout our exhibits. There's something for gamers and even just history buffs of all ages."
Learn more at The National Videogame Museum website.
4. Experience A Wildlife Safari
Fossil Rim Wildlife Center is an endangered species conservation center. The center offers guests the chance to go on tours across a 7.2-mile scenic stretch and interact with over 1,000 animals. Guests can also stay overnight in either the Foothills Safari Camp or The Lodge. A visit to Fossil Rim might be the only time a zebra or giraffe pokes their head into your car, so don't miss out! Other animals you can spot include cheetahs, wolves, rhinos, antelopes, emus, and ostriches. Visit the Fossil Rim Wildlife Center website to plan your trip!
5. Take A History Lesson On Railways
Ever wonder what it was like traveling in North Texas on an electric railway? The Interurban Railway Museum answers all your questions! The museum features a restored railway car, the only remaining depot from the Texas Electric Railway, historical photos, interactive science experiments, and a model train that runs through a miniature Plano. The museum is a short walk away from today's DART system. The Interurban Railway Museum is free for everyone, visit the website for more information on hours.
6. Twists And Turns On The Best Rollercoasters
Six Flags Over Texas is one of those places that you don't get tired of, no matter how many times you go, unless you hate rollercoasters. But even if you're not a fan of your feet leaving the ground, there's options for you too! Six Flags Over Texas has thrill rides, family rides, kid rides, live shows, and whenever you get hungry there are plenty of restaurants to choose from. Throughout the year, the theme park has different events that take place, for example from now until August 8, the Best of Texas Festival will be going on. Visit the Six Flags Over Texas website for information on ticket prices and park hours.
7. Go On A Hike And Learn A Thing Or Two
The Heard Natural Science Museum & Wildlife Sanctuary serves not only as a wildlife sanctuary, but as a place for guests to experience and learn more about nature. It offers five miles of hiking trails, 50 acres of wetlands, a native plant garden, a butterfly house, and indoor and outdoor exhibits. It's most popular for the unforgettable birdwatching! Other activities include canoeing, ropes courses, scouting workshops, bird walks, night hikes, and zip lining. Check out the Heard Natural Science Museum & Wildlife Sanctuary website for more information.
9. Taste The Best Wines In Grapevine
A trip to the wineries in Grapevine, Texas is the perfect adult getaway. If the name "Grapevine" didn't tell you, the city has some of the best wine in the state. It's home to the Urban Wine Trail, and it offers a walking winery tour right in its historic downtown square. There are plenty of tours, trains, and wine tasting rooms, so that you don't have to worry about anything besides your taste buds! Check out Grapevine's Wineries website to see all the fun going on in the city.
8. Swim Across Texas, Literally
The Texas heat is no joke. Thankfully, Plano offers us the Texas Pool to cool off. The Texas Pool has been providing fun in the sun since 1961. Its unique architectural design and historic value has made this pool a legendary landmark. The pool offers amenities like slides, a diving board, water volleyball, gas BBQ grills, and a butterfly and community garden. It's perfect for the whole family!
"The Texas spirit is as big as the Lone Star State, and nothing says 'Texas' like summertime at the Historic Texas Pool," said Texas Pool Foundation Founder Janet Vermillion Moos. "The Texas Pool is listed on the National Register of Historic Places and is DFW's closest saltwater destination."
Check out The Texas Pool website for information on admission prices and park hours.
10. Tour The Old West
Put on your cowboy boots and head on over to Fort Worth! The Fort Worth Stockyards is the perfect place to get a feel for life in older Texas. The Fort Worth Stockyards celebrates the city's tradition as a part of the cattle industry. You can find a former livestock market from 1866! During the weekend, there's the "Legend of Texas Gunfight Show," "Fort Worth Herd Experience," and the "Stockyards Championship Rodeo." The stockyards also offer several businesses to eat, shop, and play at. Visit the Fort Worth Stockyards website to find out more.