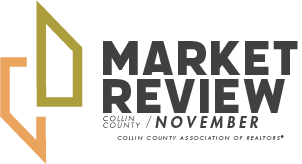 The Collin County Association of Realtors (CCAR) reports that housing market trends seen throughout the pandemic continued in November—yet, like the rest of us, slowed slightly for turkey.
In November, Collin County had 5.4% fewer new listings enter the market (1,077 vs. 1,138) and 3.3% more homes that went under contract when compared to the year prior—a familiar combination that continued to strain Collin County's already limited inventory.
Homebuyers had 34.9% fewer homes to choose from last month than in November 2020, just enough homes on the market to last 0.8 months. A market is considered balanced when there is a 6-month supply of homes for sale.
"We continued to see multiple offers, limited new listings, and select buyers landing a home throughout November. There did, however, seem to be less intensity than months prior, likely because of the Thanksgiving holiday," said Ron Leach, CCAR President.
Last month, new listings remained on the market for 22 days—13 fewer days than the year prior. On average, homes sold for 102.5% of their original list price and for a median sales price of $450,000, which was 23.3% more than a year ago.
"It is expected to see a cooling of the market in the fall and winter months; however, Collin County continues to have a hot housing market. The most we can report for seasonal trends is things are a little less extreme out there," said Leach.
Are you wondering when the time will be right for you to make your next real estate move? Collin County Realtors have the data you need to make an informed decision.