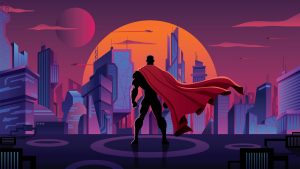 Originally Published in the November 2021 Edition of North DFW Real Producers Magazine
The Collin County Association of Realtors (CCAR) knows a superhero is not identified by a cape flowing in the wind, but by the people they quietly help. CCAR was honored to support local heroes dedicated to saving the day throughout 2021. Here are some of the headline worthy rescuers that you might not see in the newspapers.
The North Texas Realtors in Action Foundation (NTRIAF) is a non-profit 501(c)(3) organization created by CCAR in 2015 that provides the resources needed to implement outreach programs in our surrounding communities through charitable donations, volunteer work, education, and charitable housing initiatives.
"The Foundation exists to supplement the efforts of our Realtors in aiding, loving, and caring for our neighbors," explains Brandon Hern, NTRIAF President and CCAR member. "At NTRIAF, money doesn't sit in a bank account, it goes out to our clients who can't eat because all of their food is spoiled," said Hern. In 2021, NTRIAF distributed $27,750 in winter storm financial assistance to 13 members of our community, $1,000 in sleeping bags to The Salvation Army, $2,000 in donations and gift cards to The Samaritan Inn, $5,000 to the Children's Advocacy Center of Collin County, and over $17,000 to other North Texas charities.
CCAR's Affiliate Committee hosts the Affiliate Holiday Auction annually, and this year's event, on November 9, benefits The Samaritan Inn. The Samaritan Inn is a comprehensive homeless program that helps willing people gain dignity and independence. More than just a place to spend the night, The Samaritan Inn helps those experiencing homelessness by meeting their physical needs and teaching life skills to aid their journey back to self-sufficiency. On a typical night, The Samaritan Inn provides a place for 160 people to sleep, of which one out of three are children.
"I have worked with The Samaritan Inn for a number of years and one of the reasons I love the organization is because they provide a hand up, not a hand out. For a resident to be there, they have to be part of a program to gain their independence back," said Lee Warren, CCAR member and member of NTRIAF's Panel of Advisors. "After gaining independence, residents are given an opportunity to move across the street into apartments owned by The Samaritan Inn for 6-18 months at a reduced rate. This provides the resident a chance to create a rental history. When residents move into the apartment, they are completely empty and The Samaritan Inn connects them with sponsors to help fill it with towels, toiletries, food, furniture —all of which is now theirs and moves with them when they move out," explained Warren.
CCAR's Community Outreach Committee hosts events that are open to and benefit the public. On July 17 and October 2, CCAR joined with Baylor Scott & White The Heart Hospital – Plano's  Living for Zachary Heart Screening program to provide free heart screenings for youth ages 12-22. This free service can help detect heart abnormalities that may lead to sudden cardiac arrest in children.
In 2020, when Minnie's Food Pantry's shelves went bare as a result of an increased number of families needing assistance and dwindling donations, CCAR's Community Outreach Committee launched a series of contactless food drives. In 2021 alone, CCAR collected $3,600 dollars, 1,718 lbs. of food, one pallet of bottled water, and 700 lbs. of hand sanitizer. Donations received from the contactless food drives helped Minnie's continue to provide healthy meals, educational resources, and the red-carpet treatment to every person it serves—just as it has done for the past 12 years.
Those interested in supporting local super heroes are encouraged to participate in CCAR's annual Holiday Breakfast on December 14. All proceeds from the event will go to the Children's Advocacy Center of Collin County. Each year, more than 4,500 children are reported as abused or neglected in Collin County. And, the pandemic has had an even more drastic effect. Through the services provided at the Children's Advocacy Center of Collin County, these children are able to find safety, healing, and justice. Learn more about the Children's Advocacy Center by visiting www.caccollincounty.org.
To all our North Texas heroes, thank you. May we forever be the Chewbacca to your Han Solo, Robin to your Batman, and Goose to your Maverick.