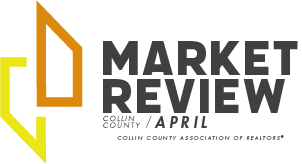 The Collin County Association of Realtors (CCAR) reports steady home sales despite limited inventory driving home prices upward.
In April, relatively the same number of homes went under contract as the year prior (1,512 vs. 1,518) for 109.4% of their original list price after remaining on the market for an average of 15 days. At the closing table, homebuyers paid a median sales price of $550,000, 32.7% more than a year ago.
Low inventory continued throughout the county as 10.2% fewer homeowners listed their home than the year prior (1,827 vs. 2,034), providing homebuyers with 24.2% fewer homes to choose from than in April 2021—just enough homes on the market to last 0.8 months. A market is considered balanced when there is a 6-month supply of homes for sale.
"Our area has a highly competitive housing market; however, Collin County Realtors know how to maneuver the now-familiar terrain and help their clients purchase while mortgage rates are at a historic low," said CCAR President Marissa Benat.
As the buzz around interest rate increases has begun, it remains unclear how our local housing market will be impacted, if at all. It is clear, however, that homebuyers throughout Collin County remained unfazed in April.