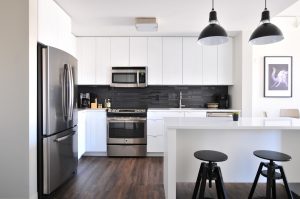 By Julie Altemus, Super Regional Sales Director and member of CCAR's Affiliate Committee.
Perhaps we are finally feeling some reprieve in the competitive real estate market. For home warranty, it has been a challenge as the demand for the highest and best offer meant leaving risks on the table for buyers not negotiating for a home warranty.  For the first time in two years, the market is moving from recession during the pandemic housing boom to expansion. "The housing market is clearly softening," Deryn Bachman, Vice President of Research at John Burns Real Estate Consulting, told Fortune Magazine. With the MLS starting to see additional inventory, builders beginning to release inventory, and offers way over listing price slowing significantly, there is breathing room for negotiations on a home warranty. This is great news!
Before the pandemic, home warranties were in more than two-thirds of homes. Having home systems and appliances covered for new buyers mitigates risk for both the seller and the buyer. When a buyer is purchasing a previously owned home, it's almost impossible to know everything about the home that pre-exists even with an inspection.  Obviously, having coverage on major systems or appliances is helpful in off-setting retail costs and expensive repairs and breakdowns. There have been many stories shared among agents and homeowners alike regarding their move-in story with no working AC, failed water heaters, or non-working appliances. As you can imagine, this is unexpected and a very expensive cost for the new buyers.
So, what can you do as a real estate agent to mitigate risk until the housing market enters a full deceleration period?
First, offer a home warranty to your buyers as a closing gift. Certainly, giving a gift that could save them hundreds or thousands of dollars by protecting their greatest asset is of value. This gesture may also increase your referral business as they will appreciate your generosity every time a dollar is saved.  Secondly, as an incentive for your buyer to choose you as their agent, offer them a credit for a home warranty if they do not receive one from the seller. This will offset some of the cost of purchasing a home warranty on their behalf and still allow them the coverage they need for protection during their first year of homeownership. Third, negotiate a home warranty during the option period. This is a great strategy in still getting a warranty added but not asking up front if there are multiple offers.
In summary, "there is a shortage of housing, and home prices have no place to go but up," according to Mark Karetskiy, Loan Officer with Movement Mortgage. With this, the Fed has put pressure on mortgage rates hoping to cool the market pricing and curve the inflation. This is a good indicator that the market is beginning to shift slightly and perhaps gives buyers more power in negotiating a contract.
Regardless of the market, it's crucial to protect buyers whenever possible. Gifting a home warranty, offering a credit, or negotiating during the option period are a few simple ways we can help protect clients in the competitive real estate market.