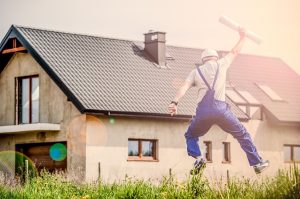 By Jamie Flynn, Area Sales Manager of HomeServe Home Warranty and member of CCAR's Affiliate Committee.
Imagine a week after moving into your new home, you turn on the air conditioning and it doesn't work. Your dishwasher suddenly quits, or the hot water heater goes out right as you hop in the shower after a long day. Now imagine this is your buyer that, for various reasons, elected to forego the warranty.
Purchasing a home warranty can assist in alleviating the financial heartache homeowners face at the point when appliances or a major home system goes out. These days the warranty is paid upfront, but the savings could be worth the added expense. The residential service contract (RSC) is designed to cover items that are in good working order prior to the start of the policy, and fail due to normal wear and tear later on. The call center advocates for the warranty companies to assist in the claim process and the homeowner has the flexibility to schedule the appointment with the contractors directly for a time that best suits both parties.
In addition to the annual premium made in payments averaging $60 monthly or annually around $575, there is a fee for diagnosis service calls, parts, and labor. These calls range from company to company, but some are only $75, which is less than a night out of Mexican food and margaritas. Without a home warranty, hundreds or thousands of dollars could be spent repairing or replacing these items.
Residential service contracts differ from homeowners' insurance. HOI covers losses incurred if your home and belongings are damaged or lost due to fire, theft, etc., while a home warranty is a service contract that covers repairs or replacement of specific items. Unlike a home warranty, homeowners' insurance is a mortgage lender requirement.
The bottom line is this: home warranties provide easy and effective ways to locate contractors of various trades when a covered item breaks down. They free the homeowner from the worry and inconvenience that comes with unforeseen breakdowns of the homes systems and appliances.