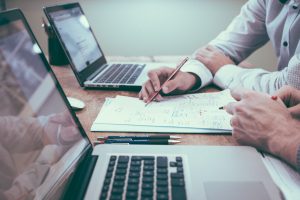 Written By Ben Strube, Owner of Mortgage on a Mission and Member of CCAR's Affiliate Committee.
How do you create a referral-based business as a REALTOR®? How do we build a business, focus on doing great work for our clients, and have our phone ring with the new clients we need to keep our sales pipelines full? It all comes down to wowing our clients at every opportunity. If you're not confident about home financing, gaining that confidence to help your nervous buyers through the mortgage process can be one more way to wow them and build that solid referral base.
Referrals aren't a quick shot in the arm for your business. They take time to come in, to turn into cash in the bank. They're the brand equity that sustains us through the good times and the hard times (like this final stretch of 2022). As your friends in real estate close more transactions than you, you're putting in the extra hours with the clients you have, going the extra mile, and making sure they remember you when it's time to refer. Because if it costs you $1,000 to get one more client, and you get to the point that you're getting 10 clients per year organically, then the value of your brand equity has become $10,000 of savings each year. Building up that equity takes time, but once you have it when a friend of a past client mentions they need to buy or sell a home, it's your name that they share. It's your phone number they call. Real estate, after all, is a business of trust. We must wow our clients at every possible moment to earn that trust.

Using a Mortgage Broker for the Wow Factor
When it comes to home financing, many of your friends who are REALTORS® might say, "that's not my role. I'm just the agent. I have loan officers to answer those questions." You might think that yourself, and you are 100% correct. It is the loan officer's job to be competent in mortgages. But let's think of it from your buyer's perspective, your buyer came to you because they trust you. Mortgages are terrifying for most buyers, are they not? So, if your buyer trusts you and they don't understand the mortgage, this is a wonderful opportunity to wow them with your knowledge.
By taking extra classes and learning new skills, you can take your buyer's anxiety and turn it into your brand equity. Spend an additional 30 minutes with your buyers, helping them understand the basic mortgage concepts, and see what happens to your referral base next year. Anything that our buyers struggle with is our job. Whether it's getting utilities set up, the movers scheduled, or sharing ideas for how to upgrade the kitchen. We are that trusted advisor. So, here are a few things you can use today to wow your buyers as they face the anxiety of getting a mortgage, with rates at nearly 6%.

Watch Mortgage Rates

Did you know you can keep an eye on mortgage rates? There's a national average, and you can see how that rate changes daily. Tell your buyer where rates are today and where they've been the past two weeks. Then when your buyer receives the lender's loan estimate, you can see if the rate is above (or hopefully below) that national average. Keep track of which lenders have solid pricing and which lenders don't. There are a lot of lenders with rates that are 0.50% above this average and just as many that are 0.50% below. So, if your buyer gets a bad offer, help them get a better offer. That knowledge and expertise become your brand equity, as your past clients refer their friends to you, so you can help them save. You can watch mortgage rates with the link down below.*

Get to Know a Mortgage Broker
Did you know that there are 15,000 mortgage brokers across the nation? Brokers are licensed at the state level, so there are hundreds of brokers you could reach out to in Texas alone, even if they're not in your city. Did you also know that mortgage brokers helped about 2 million borrowers in 2021? When we look at closing cost data, comparing retail and wholesale lenders (that brokers use), we find that brokers (on average) helped home buyers save over $9,000 due to lower rates and lower upfront lender fees.** If you're not familiar with what a mortgage broker does, get coffee with a broker and ask them what they do. Again, you're building up your knowledge base. And that's why people refer their friends to you.
 
Mortgage Brokers Do Boring Loans, Too
Mortgage brokers have changed tremendously since 2008. It used to be that a mortgage broker only did the "weird" stuff. But in 2021, did you know that the 2 million loans brokers did were predominantly FHA, Conventional, VA, and Jumbo? As lender pricing moves all over the place, brokers serve an essential role as the advisor to the buyer, helping them compare multiple quality lenders, knowing that the broker will be helping them each step of the way. Brokers certainly can do the "weird" loans, but the majority of loans that mortgage brokers do are the boring loans that we're all familiar with. Referring your buyers who need FHA, Conventional, VA, or Jumbo to a broker is another way to help them save.

What Brokers Actually Do
So what does a mortgage broker do exactly? Here are a couple of things you should know:
1) Brokers do the shopping work for your buyers. When mortgage rates rise, the broker has several competing lenders to compare, not just one. The broker knows the quality of underwriting at each lender and can also recommend the best lender for their unique situation (which may or may not be the lowest price).
2) Brokers have a wide variety of underwriting teams to rely on, not just one "in-house" team. Sometimes an underwriter says no. Sometimes home buyers don't follow instructions, am I right? When that happens, a broker is still able to resubmit to another lender and get another underwriter to take a look. Retail lenders with in-house underwriting? Just one underwriting team, so when the underwriter that's in-house says no, that no means starting all over to try to reach CTC.
3) Brokers can provide VIP customer service. If you find a great broker, your buyer might only need to text, call, and email with this one person. Instead of the buyer working with several people at a lender's office, the mortgage broker may be the professional who pre-approves your buyer, helps them move through underwriting, and prepares for the closing day. Each step of the way, a single point of contact takes ownership of the file. No processor to blame when something goes wrong. No closing assistant. Just the broker is able to answer every question that the buyer has and keep you informed of the loan progress.
4) Quality brokers can move very quickly. A broker knows which lenders can move fast and which lenders can't. On Day 0, when the seller signs the contract, let's say your buyer emails the contract to a mortgage broker, within an hour, the buyer receives a loan estimate from the broker's best lender for that scenario. After the buyer signs, the loan moves to underwriting, where it's approved in 24 hours. On Day 1, the buyer is initially approved by underwriting. The days of needing a 21-day finance contingency are gone. Buyers can confidently submit an offer with a 10-day contingency, with plenty of time to tie up any loose ends.

Finishing 2022 Strong
If you're looking for a way to add more value to your home buyers as interest rates rise, learn more about what mortgage brokers do. We aren't flashy, and we won't be able to triple your business overnight. Growing your real estate business takes time, patience, hard work, and a lot of setbacks, and it always requires giving 110% to every lead, every buyer, and every referral.
Mortgage brokers can add value to your buyers who desperately want to buy a home but don't want to pay such high-interest rates. Get coffee with a broker. Ask your questions. Once your buyer gets a quote from a retail lender, ask your mortgage broker for a quote for the same loan type and same credit score. Compare rates and lender fees. See who is best for your buyer. After all, that buyer will refer you to your new clients next year. Every opportunity to wow them is an investment in your business.
As you provide more value to your buyers, you are sure to build a business that can weather any storm in real estate because you have a solid base of referrals coming your way. Best of all, you will have built that brand for yourself. It will belong to you.
*Daily rate movements are published by Mortgage News Daily. The national average is not a rate your buyer will receive since many lenders are 0.50% above or 0.50% below this average. You can view these changes here:
https://housingbrief.com/article/630d2060b671ae097e6d16b8/5f9706b21323840e74d4187b?sr=true
*Data on mortgage savings are taken from a study that compares the rates and upfront fees from the top 10 retail lenders and top 10 wholesale lenders for a 30-year fixed rate, conforming Conventional loans with DTI of 41-45% for the year 2021. Study was published by the Association of Independent Mortgage Experts and can be viewed online: https://www.thebrokeradvantage.com/items
****
The CCAR Professional Development Committee wants to hear from you! When you get the CCAR Continuing Education survey by email, be sure and fill it out. Let the REALTOR®-Lender Committee know if you want classes about the mortgage process. If you're not confident about your Mortgage 101 basics, put that on the survey so we'll know to offer mortgage classes next year.