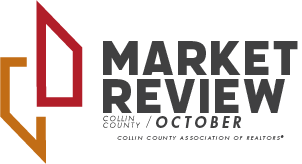 The Collin County Association of Realtors (CCAR) reports that as the leaves turned, Collin County welcomed a new season of home buying and selling as homes remained on the market longer, continued to sell below their original list price, and increased housing inventory.
In October, Collin County homes remained on the market for 37 days on average and sold for 95.5% of the original list price. At the closing table, homebuyers paid a median sales price of $500,000, 12.4% more than a year ago.
The area had 17.7% fewer homes that went under contract and 3.0% more new listings in October than the previous year. A combination that provided Collin County buyers with 126.0% more inventory to choose from than one year ago. Just enough homes on the market to last 2.4 months—an 170.8% increase from one year ago. A market is considered balanced when there is a 6-month supply of homes for sale.
"As the season has changed, so has our market. Homes continue to sell for more than they were one year ago, but sellers had to be a bit more patient and open to negotiation," said CCAR President Marissa Benat.
Wondering what the current market indicators mean for you? Collin County Realtors have the ethics, education, and expertise to help.