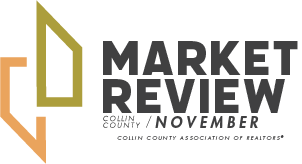 The Collin County Association of Realtors (CCAR) reports increased inventory throughout the county as more homeowners listed their homes in November 2022 than the year prior, and fewer homes went under contract.
The area had 7.7% more new listings and 15.5% fewer homes that went under contract in November than the previous year. A combination that provided Collin County buyers with 173.0% more inventory to choose from than one year ago. Just enough homes on the market to last 2.4 months—an 233.7% increase from one year ago. A market is considered balanced when there is a 6-month supply of homes for sale.
In November, Collin County homes remained on the market for 45 days on average and sold for 94.4% of the original list price. At the closing table, homebuyers paid a median sales price of $496,945, 10.4% more than a year ago.
"Last month, home buyers could finally take time to shop around, negotiate agreeable terms, and find the home of their dreams. This is the market many home buyers have been waiting for, and it is a great time to buy even with the higher interest rates," said CCAR President Marissa Benat.
Wondering what the current market indicators mean for you? Collin County Realtors have the ethics, education, and expertise to help.