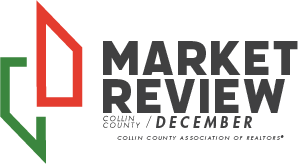 The Collin County Association of Realtors (CCAR) reports that a steady increase in new listings and the simultaneous decline of homes under contract increased the area's months supply of homes for sale by three times.
The area had 8.2% more new listings and 10.0% fewer homes that went under contract in December than the previous year. A combination that provided Collin County buyers with 230.6% more inventory to choose from than one year ago. Just enough homes on the market to last 2.1 months—an 307.2% increase from one year ago. A market is considered balanced when there is a 6-month supply of homes for sale.
In December, Collin County homes remained on the market for 53 days on average and sold for 94.0% of the original list price. At the closing table, homebuyers paid a median sales price of $491,999, 6.9% more than a year ago.
"In December, a home seller had to wait a few days for an offer. That wait has made for more negotiable sellers, and we are seeing the reemergence of seller concessions," said CCAR President Shana Acquisto.
If buying a home was a goal for your New Year, this just might be the time to make it happen.