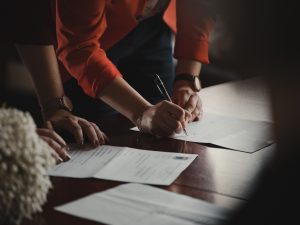 Co-Authored by Melanie Chaiken and Jennifer Kuczaj with Allegiance Title (Frisco and Plano locations)
Over the past few years, there has been an abundance of television, radio, and social media ads from several companies proclaiming the same frightening message: Fraudsters are trying to steal your house!
Because publicly available property records, including deeds and deeds of trust, contain the names and signatures of the rightful property owners, it is relatively easy for fraudsters to obtain the information necessary to forge signatures on deeds and deeds of trusts purporting to convey and encumber properties they do not own.
Since companies offering "title monitoring" services proclaim messages like, "house stealing is one of the fastest growing white collar crimes in America," title monitoring services have increased in popularity.  Let us tell you why such services may not be necessary and may be preying on a false fear.
A fraudulent deed is void, and while it may be burdensome and costly for the victim to get the cloud on the title removed, the fraudster will not succeed at legally "stealing" anything. Title monitoring services cannot prevent forged documents from being filed, and their primary benefit is to monitor property records to inform property owners that they may have a forged document filed on their property, a service that is already provided for free by many counties. The extent to which these companies will help to remove and prevent the fraudulent documents from affecting the title in the future is unclear, and the property owner may have to hire their own attorney despite having purchased one of these companies' services. Therefore, these services could be seen to be taking advantage of public panic by offering services that are unnecessary or insufficient. Purchasing title insurance remains the most important action a property owner can take to protect their interest in real property, as prior fraudulent deeds in a chain could actually cause a complete loss of title.
Property owners may benefit from taking proactive steps to set alerts and monitor easily accessible public records in order to address attempted fraud at the earliest opportunity, but you should rest easier knowing that, despite the headlines, your house cannot be stolen from you with fraudulent documents.
For more information, you can read the entire article by Blair Moore Raggio and Blair Nash by clicking here: Blair Raggio - Title Monitoring Services and Texas Laws on Forgery - TLTA Institute 2021.pdf or watch the Allegiance Title "Tip of the Week" on "What is Title Lock?".