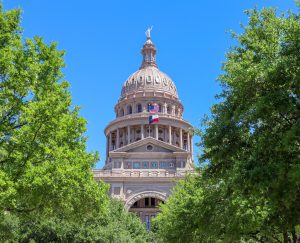 What is the Texas Legislature and what does that mean for the state? Those are great questions to discuss now that we have entered the 88th Texas Legislature.
The Texas Legislature is the state Senate and House of Representatives coming together to consider proposed laws and resolutions, consideration of proposed constitutional amendments for submission to the voters, and appropriation of all funds for the operation of state government. The regular session begins on the second Tuesday in January of each odd-numbered year, for 140 days. If needed, the Governor may call the legislature into a special session, which can only last 30 days per session.
Texas uses single member districts, which means each member of the Texas Legislature represents only one legislative district. After the U.S. Census goes out every 10 years, the legislative and congressional districts are redrawn to maintain equal and proportional representation. If you want to find out who represents you, click here.
Once a bill has been approved and passed by the House and the Senate, it then goes on to the Governor who will either sign the bill into law, allow the bill to be approved without a signature, or they can veto the bill. That veto, however, can be overridden if the bill receives a two-thirds vote in the House and Senate.
The Current Session:
As mentioned above, we are currently in our 88th legislative session which began on Tuesday, January 10 and will run until Monday, May 29. Currently, the Republicans control both chambers. This session, the State must consider how to spend the $32.7 billion budget surplus, an obvious hot topic. Some (but not all) of the other topics being discussed this session include inflation, immigration & border security, gun control, abortion rights, public education budget, and property taxes—a topic that Governor Greg Abbott himself is very passionate about. Since public schools in the state are largely funded by property taxes, many republican leaders want to use the surplus to take some of that pressure off homeowners.
House Bill 32, from State Rep. Giovanni Capriglione, (R) would place limits on how much appraisal districts can raise a single-family home's value.
State Rep. Diego Bernal, (D) filed a bill requiring appraisers to value a home based on the value of neighboring homes, this is aimed at preventing displacement in gentrifying neighborhoods.
House Bill 379 by State Rep. Cecil Bell Jr. (R) would direct the state comptroller to automatically put half of any budget surplus at the end of each session into the Texas Education Agency to again help take the burden off homeowners and their property taxes.
The Texas REALTORS® Advocacy team in Austin reviews every bill as they come forward to determine if it will affect property rights, homeownership, and the real estate profession. If a bill could affect one of these areas, then TR determines if they should lobby for or against a bill.
The Texas Legislature is always a great reminder of why it is so important to get involved and that starts at the local level. It is your local representatives who will fight and advocate for your best interest to those at the state and national levels. We invite all CCAR members to join us at our Government Affairs monthly committee meetings where we discuss real estate issues like the ones above with our local leaders. Please email Government Affairs Director Jason Petrie at jason@ccar.net for more information.